Medical Assistant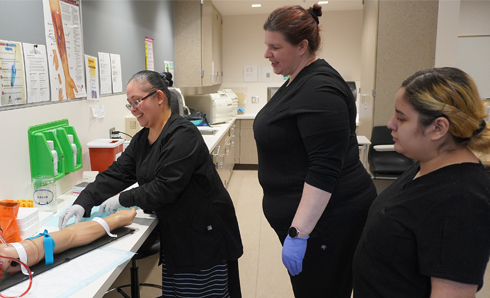 Highline offers both a Medical Assistant associate's degree and certificate.
What is a Medical Assistant? Watch this video to learn.
The certificate  program is CAAHEP accredited and is a requirement for the MA AAS degree. The certificate program can be completed in six quarters.  The AAS can be completed in eight quarters, including summer quarters.
In this program you will learn the practical skills you need for a rewarding, challenging position in the healthcare field. You will learn to work with physicians to increase productivity in medical offices by performing a wealth of administrative and clinical tasks. Our objective is to prepare medical assistants who are competent in the cognitive (knowledge), psychomotor (skills), and affective (behavior) learning domains to enter the Medical Assistant profession. Our students also gain work experience through a required externship course. This is an unpaid, supervised, 180 hours on the job externship.
The CAAHEP accredited Certificate program and the MA AAS graduates are eligible to sit for the Certified Medical Assistant (CMA) certification exam, or three other national exams that meet the requirements of the Washington State Department of health to become a Medical Assistant-Certified.
Agencies may require students to complete a criminal background check prior to being offered an internship or employment.
The Medical Assistant program is accredited. See the accreditation statement in the college catalog.
Program Information
See Medical Assistant certificate and AAS requirements and learning outcomes.
Career Opportunities
Ambulatory Clinic Practices
Physician offices
Urgent Care Clinics
According to the U.S. Department of Labor, Bureau of Labor Statistics, demand for Medical Assistants will grow 16%, much faster than average, from 2021-2031.
Already working as a medical assistant? Do you need clock hours (MA Education) to meet the Department of Health standards to get the MA-Certified credential? Check out our MAR to MAC Pathways program, which uses your work experience for you to gain credits/clock hours.
Outcomes from 2022 Annual Report (ARF) are as follows:
2020 Graduate Exam Passage – 72%
2020 Graduate Year Job Placement – 75%
2020 Admissions Cohort Retention – 93%
Professional Associations